This post will guide you in knowing what motorcycle spare parts you should buy generally if you want to run a motorcycle spare parts business.
Are you looking to run an okada business in Nigeria but you need ideas on what motorcycles you can choose from? Then this post is for you. In this post, we will guide you through the different motorcycle models you can choose from. If you are looking to do research for someone else to help them choose what motorcycle to buy, then this post is also for you. We will look at the pros and cons that each motorcycle has. Then we will also consider things you should think of before choosing a motorcycle model for okada purposes.
What is Okada?
In other parts of the world, different names exist for motorcycles. In some areas, it is referred majorly to as two-wheelers. And you can easily get that it's because it has two wheels. In Indonesia, they are more commonly known as Ojek. In parts of Nigeria, like Kano, we call them Achaba. However, in Nigeria as a whole, the most common name is Okada. Basically, an Okada is a two wheeler taxi. Or as Wikipedia calls it – a motorcycle taxi.
Top 3 Motorcycles for Okada Business
Bajaj Motorcycle
TVS Motorcycle
Honda Motorcycle
The list written above is placed exactly how the ratings for motorcycles are currently in Nigeria. And we will walk you through the process so you understand why.
The Bajaj Motorcycle
For every location where motorcycle taxis are allowed to run in Nigeria, one of the most common versions you will see is the Bajaj motorcycle. You can always easily spot it with it's red body. There are other colors but the most common is red. As the owner, you are allowed to color it to custom choice. Let's see why it is in high demand and usage.
Durability – The Bajaj motorcycle is a strong model. With a 4 stroke system, one cylinder, 10.5 liters capacity, a combi brake system, the specs of the Bajaj motorcycle makes it a great choice for Nigeria. For seating comfort, the Bajaj offers space that can easily seat 3 persons. There have been instances where 5 persons – 2 adults and 3 kids have used a Bajaj to get to their destination. The recommendation however, is 3 adults. Another reason why this is the most preferred choice is because of replacement parts. The ease and easy access to motorcycle spare parts is why we strongly recommend the Bajaj motorcycle. For every 10 persons selling commercial motorcycle spare parts, the 10 of them will have some replacement parts for the Bajaj motorcycle. If you are getting into the motorcycle parts business, you have to consider spare parts for Bajaj motorcycle.
The TVS Motorcycle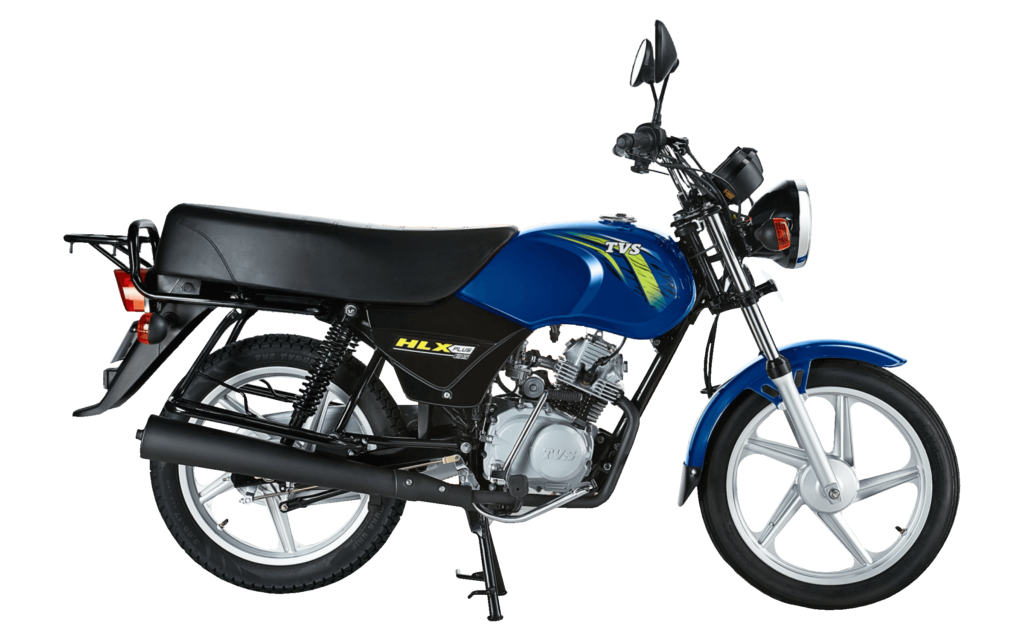 Closely following the Bajaj motorcycle is the TVS Motorcycle. In looks, the TVS motorcycle looks just like the Bajaj Motorcycle. The first way to spot a difference would be in the branding. The TVS motorcycle used for Okada purposes has the TVS logo right on it. Also, the most common color is blue. After blue, the next common color is red. Then you could see some black versions around. The red and black also has that same logo on it so you cannot miss it.
With a 4 stroke engine, 5 speed transmission, electric start and electric key start option, the TVS motorcycle is a favorite for okada use. The TVS is fuel efficient and a fairly strong brand. It is also quite durable , has great acceleration, requires low maintenance and has long carriers for transportation. For replacement parts, the TVS spare parts is not as common as the Bajaj motorcycle but it is fairly common in the market. Using the same analysis used earlier, for every 10 persons selling motorcycle spare parts, about 7 will have replacement parts for the TVS motorcycle. If you are looking to get into the motorcycle spare parts business, you should consider parts for TVS motorcycles. However, the fund split should be like 60/30. So 60% of funds should cater to Bajaj motorcycle parts while the 30% should cater to TVS motorcycles.
The Honda Motorcycle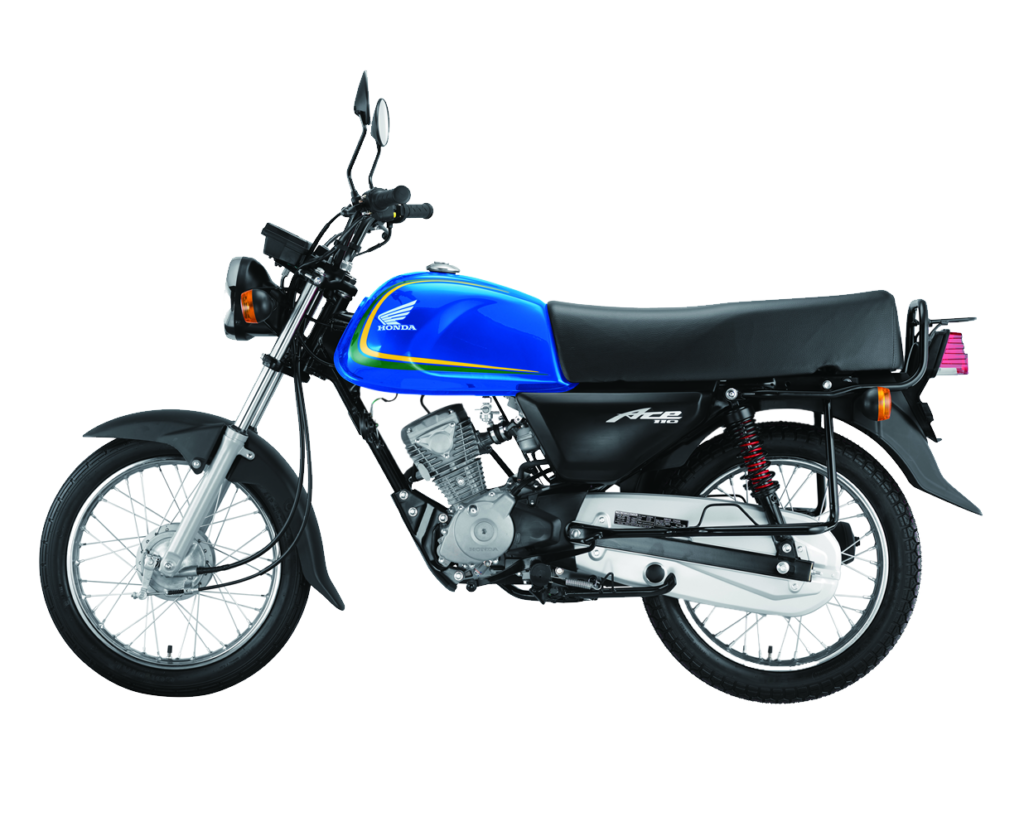 With a 110cc engine, a kick start and a hand start, 4 speed stroke and a fuel economy of 50km per liter, the Honda ACE 110 is here to stay. If your first requirement for okada is a fuel saving bike, then the Honda is your choice motorcycle. This Honda is strong, durable and a great bike for Nigerian roads. If you will fault the Honda motorcycle, it will be because the replacement parts are not as common as other bikes. If we want to split funds as we did for the TVS, then the Honda will take the last available 10%. So, make that a 60/30/10 money split on how to spend on the different parts for a thriving motorcycle spare parts business.
What's next?
Do you still need to know more about the motorcycles you can use for okada business in Nigeria? You should just reach out to us and let us have a conversation about it. Click here to go to the contact page.